Last updated on: September 7, 2021
The LLC formation industry is pretty diverse in its range of options. Currently, there are dozens of formation agencies catering to very specific requests regarding startup budgets and general operations.
On the one hand, this offers plenty of opportunities, but on the other hand, navigating such an abundance of choices could take away a vast portion of your time that would be best spent on other aspects of formation.
One of the ways to narrow down your search is to look for companies that support the requirements specific to your location. If, for instance, you plan to form an LLC in Delaware, one of the best options for you would be IncNow. Having been in business since 1974, the company has established itself as one of the best quality professional service providers in their niche.
This IncNow LLC service review will touch on the various benefits of this service pertaining to your specific company as well as the pros and cons of IncNow as a whole. Other points examined in the IncNow review include pricing, other features, and details of their service packages.
Advantages & Disadvantages
IncNow has maintained its high reputability for decades now, holding its own in the face of growing competition and constantly attracting new customers with effective formation plans.
Their consistency is supported not only by excellent customer feedback but also by the impressive and long-standing track record in entity formation. That said, let's look closely at the main pros and cons that come with hiring IncNow.
Advantages of IncNow
discounts: when making your first purchase, you can use their promo code INCNOW50 for Delaware and SAVE50 for Florida and Nevada to get a $50 discount on any formation package;
benefits for Delaware residents: those who want to open an LLC in Delaware but prefer to act as their own registered agent have an option to select one of the cheapest LLC formation packages priced at only $9+state fee which is $90 in Delaware;
hundreds of positive customer reviews;
well-balanced LLC formation packages offer effective feature combinations and don't force overpriced services at every turn;
Disadvantages of IncNow
the steep $101 price disparity between the base and complete service packages is not exactly warranted by the range of added features;
IncNow offers formation services only in the states of Delaware, Florida, and Nevada. If you plan to start a company in another state, you should look for a service provider that operates in other state jurisdictions.
IncNow LLC Packages & Prices
States and their service packages
Delaware
IncNow in state Delaware offers 3 plans for LLC formation, each with its own feature set: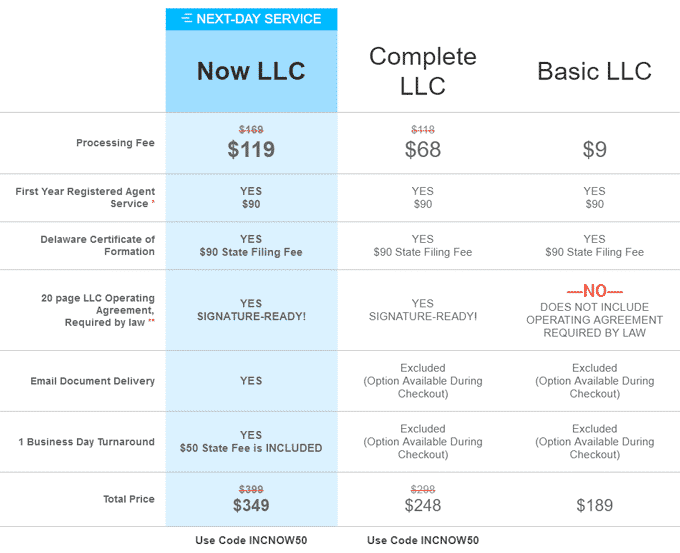 Two Important Notes:
It's possible to get a $50 discount on the two of these packages, specifically Complete and Now that cost $298+ State Fee and $399 + State Fee without the discount.
You can knock the pricing down to $248 and $349 respectively by using a promo code INCNOW50 when making your purchase on the IncNow website.
Moreover, you can save up to $90 with any formation plan but only if you are:
a Delaware resident;
planning to be your own registered agent;
Florida
IncNow in state Florida offers 2 plans for LLC formation, each with its own feature set: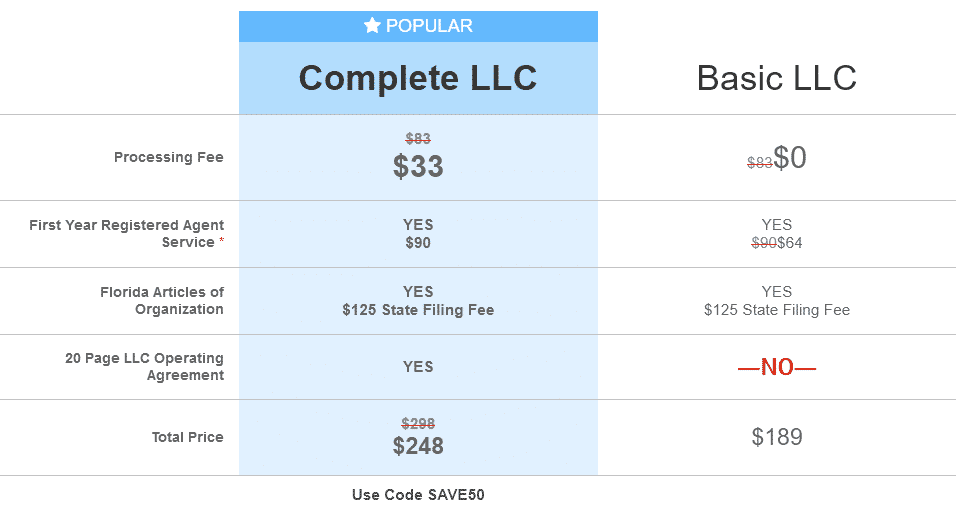 The Important Note:
It's possible to get a $50 discount on the Complete package, that cost $298+ State Fee without the discount.
You can knock the pricing down to $248 respectively by using a promo code SAVE50 when making your purchase on the IncNow website.
Nevada
IncNow in state Nevada offers 1 plans for LLC formation, each with its own feature set: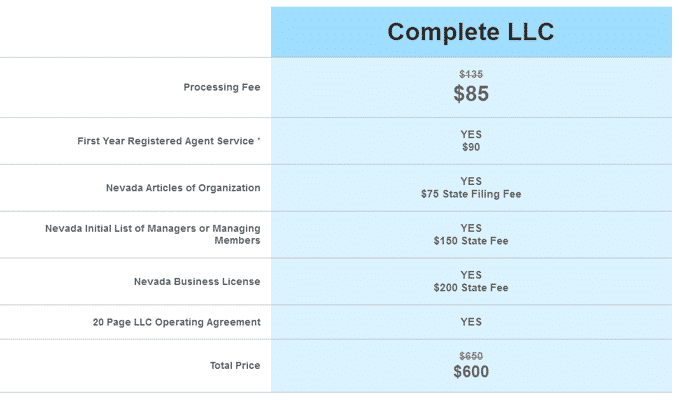 The Important Note:
It's possible to get a $50 discount on the Complete package, that cost $650+ State Fee without the discount.
You can knock the pricing down to $600 respectively by using a promo code SAVE50 when making your purchase on the IncNow website.
More about packages
Basic LLC = $189 + State Fee
IncNow's basic package covers everything you need to register a new Delaware LLC as well as keep it compliant with state law, making it an ideal option for Delaware-based entrepreneurs who plan to do business locally and would rather avoid overpaying for unnecessary features.
The same is applicable for Florida LLCs, whereas Nevada formation is only possible with a Complete package. But let's see what exactly is in IncNow's Basic package and how it may apply to you.
Preparation and Filing of the Articles of Organization
The key element in the LLC formation process is the preparation and filing of the Articles of Organization. In fact, this document is what establishes the legal status of an entity, so it's vital to keep this document as compliant as possible if you want to properly register your LLC.
Filing your articles without checking for errors or inconsistencies could lead to the rejection of your application. A rejection like that means your failure to register an LLC, plus all the money you spent on the filing process will be spent in vain.
IncNow can take care of this step and deal with the preparation and filing of the Articles of Organization on your behalf, ensuring your application is fully compliant and processed in time.
Name Availability Search
Before going ahead with your chosen company name, be sure to check its availability. Most states legally require company names to be unique. If the name has already been taken by another LLC in your state but you use it for your LLC in the Articles of Organization, chances are your application is going to get rejected by the Secretary of State. To avoid this, IncNow conducts a preliminary name availability search across all relevant state databases.
One Year Registered Agent Service
Designating a registered agent is a mandatory step for doing business operations in all states, including Delaware. The requirement is there for your benefit and is designed to establish a reliable means of communication between your company and state authorities.
Registered agents deal primarily with legal documents and other paperwork addressed to your business, including:
state correspondence;
legal requirements;
any type of service of process;
IRS tax notices/letters etc.
Almost anyone can serve as a registered agent, provided they meet a few requirements. This means that any legal body or natural person can act in this capacity.
Still, it's generally recommended to hire a professional registered agent service, mainly for their efficiency and much better rates compared to attorneys and attorney firms. Not to mention that acting as your own registered agent may cause scheduling conflicts.
IncNow is not the cheapest option when it comes to registered agent service, but they are fairly affordable, charging only $90 annually.
Complete LLC = $298 + State Fee
The Complete LLC formation package in Delaware and Florida will cost you $298+State Fee, and in Nevada it will be $650+State Fee.
IncNow's Complete package, which is offered in Delaware and Florida, adds only one feature to those included in the Basic package. It may seem excessive to charge $100 for a single service, but not when this service is the step-by-step creation of your personalized Operating Agreement.
20 Page LLC Operating Agreement
Even though an Operating Agreement is an internal document by nature, its creation is crucial for the smooth running of any company. This document typically touches on the following aspects:
operational structure and LLC member rights;
operational guidelines and goals of the LLC;
types of management underlying procedures:
– voting;
– potential ways to designate a registered agent or assign a substitute;
– allocation of profits and losses;
– owner/member replacement;
– selling LLC ownership;
– voluntary dissolution etc;
With their Complete package, IncNow offers to draft an expertly detailed operating agreement on your behalf.
Now LLC = $399 + State Fee
Their top-tier Now package is only available for Delaware organizers and includes all previously mentioned features plus a few helpful additional services. This option may be best suited for entrepreneurs with more generous budgets who would prefer to form their LLC faster and with less effort on their part.
Expedited Processing
IncNow's expedited processing service guarantees fast 24-hour turnaround times for all applications. This feature can be purchased with other packages during checkout.
Email Document Delivery
The copy of your Articles of Organization will be delivered to you by IncNow via email as soon as the document is available.
Additional Features
Any of the service packages allow you to order additional features separately, so you can technically customize your plan based on the requirements of your LLC. Keep in mind that the pricing may vary based on the state of formation, so be sure to look up the rates for Florida and Nevada.
Statement of Organizer ($49)
This document details the list of all initial LLC owners/members and managers.
Federal Tax ID Number or EIN ($99)
EIN is a unique nine-digit number assigned to a legal entity for conducting the following operations:
paying taxes;
hiring employees;
opening business bank accounts etc.
LLC Kit and Seal ($99)
IncNow also provides a fully customized LLC kit complete with an embossed ledger, binder, and a corporate seal with your company's name.
Certified Copy of Certificate of Formation ($99)
Always having a certified copy of your Articles of Organization on hand is an unspoken necessity of running any business. Various third-party entities and individuals may request to check the articles, including but not limited to:
banks;
government agencies;
creditors;
consulting lawyers or accounts and other contractors.
Certified Copy with Apostille ($159)
The Apostille is used in document authentification to certify the legitimacy of the signatures and stamps that affix the initial documents. Copies certified in this manner are usually required to open companies outside of the United States.
Certificate of Good Standing ($99)
This document is issued to provide proof that an LLC has been following legal requirements in full compliance with state law. You might need the certificate for various legal reasons, for instance when acquiring foreign qualifications.
Certificate of Good Standing with Apostille ($159)
Whereas the regular certificate of good standing is necessary for branching out to other states within the United States, this iteration is mandatory for opening business entities in other countries.
Despite the abundance of additional features, IncNow is one of the few companies that won't be harassing you with upsells at every turn. The only time they will offer extra features is during the initial checkout for your first service package.
IncNow Customer Reviews
If you prefer to rely on customer feedback when choosing an online service, IncNow is one of the few companies with hundreds of positive reviews across multiple client review platforms.
Most customers cite the speed and efficiency with which IncNow can help you start an LLC, but the company's customer support is also pretty consistent. Let's examine the IncNow customer experience based on their ratings.
Trustpilot
Out of 705 reviews on Trustpilot, the majority are positive in nature, praising the professionalism of IncNow's team. Many reviews also state they are either returning customers or plan on

Google
IncNow's headquarters has 53 reviews at the time of writing, most of which are fairly positive.

Facebook
Although somewhat modest in volume, Facebook reviews (11 in total) are notable for their deeply personal nature and can give you a more complete picture of the service.
Facebook Rating: 5/5 stars
BBB
Best Business Bureau that only has 3 customer reviews, but all of them are strikingly positive. Each review cites the speed and experience of IncNow's team. What's even more impressive is the A+ rating awarded to the company by BBB's business specialists.

Is IncNow Right For You?
As a reliable and experienced LLC formation service, IncNow will be an excellent choice for most entrepreneurs who plan to create an LLC in Delaware. Unlike LLC services with similar rates, IncNow can boast highly positive customer reviews partially due to the company's friendly customer support and decades of experience.
Even though IncNow also offers formation services in Florida and Nevada, it's best to weigh all available services that operate in those states to see if IncNow is the best option in your case. This applies to Delaware as well since every LLC has unique requirements, and IncNow could be perfect for some and not very suitable for others.
✔ When to Start an LLC with IncNow:
when planning to open a business in Delaware and looking for a fast and reliable service provider;
when planning to use promo codes or looking for discounts as high as $90;
when you plan to act as your own registered agent in Delaware.
✖ When NOT to Start an LLC with IncNow:
when planning to form entities in or expand into states other than Delaware, Florida, or Nevada;
when you want to hire an online company that offers a free year of registered agent service.
Final Verdict
When it comes to forming an LLC, IncNow can do it with staggering efficiency and speed thanks to the company's decades of experience and dedicated team of professionals.
IncNow may seem a bit expensive at first but you definitely won't regret investing in their services. Compared to the average business attorney rates, this online service will actually help you save money, sometimes even up to several hundreds of dollars.
Still, IncNow is not exactly the cheapest in its niche. Quite a few competitors offer similar packages at more affordable prices and even include a year of free registered agent service.
It should also be noted that for all its competence, IncNow operates only in three states: Delaware, Nevada, and Florida, with Delaware being the most financially viable option. And even if you use the service to form an entity in one of those three, expanding the company to other states won't be possible if you're hiring IncNow as a registered agent service.
All in all, IncNow is a relatively affordable method to start a company if you plan to run a business in Delaware, Florida, or Nevada as all of their formation plans guarantee fast and competent registration. Unfortunately, entrepreneurs who want to start their business in other states will have to consider other services.