Last updated on: July 25, 2021
Formation services are now the go-to option for anyone who wants to start a business. If you are new to the whole process of filing legal documents, a service provider like LegalNature can create an LLC faster and at relatively low rates.
LegalNature prices can be easily called the company's winning card, but budget-friendly features should not be the only thing on your consideration list. This LegalNature LLC service review covers their pricing plans, available services, and overall LegalNature pros and cons.
What Is LegalNature?
Established in 2010 in Delaware, Legal Nature's online legal service provider has been a steady presence in the field of expert legal and real estate assistance at the national level as well as internationally.
Under the guidance of Legal Nature's experienced attorneys, their team can help you handle LLC business documents to manage or register an LLC as well as various real estate and personal matters concerning the power of attorney, healthcare, marital affairs, and more.
LegalNature Plans & Pricing
Legal Nature's services are available through monthly and yearly subscriptions but you can also order your LLC registration as a single document filing.
In terms of accessibility, Legal Nature's payment options are rather flexible compared to same-bracket competitors. Their base plan is by far one of the cheapest in the industry.
The three main subscription plans all include the basics necessary to launch an LLC and plenty of extras.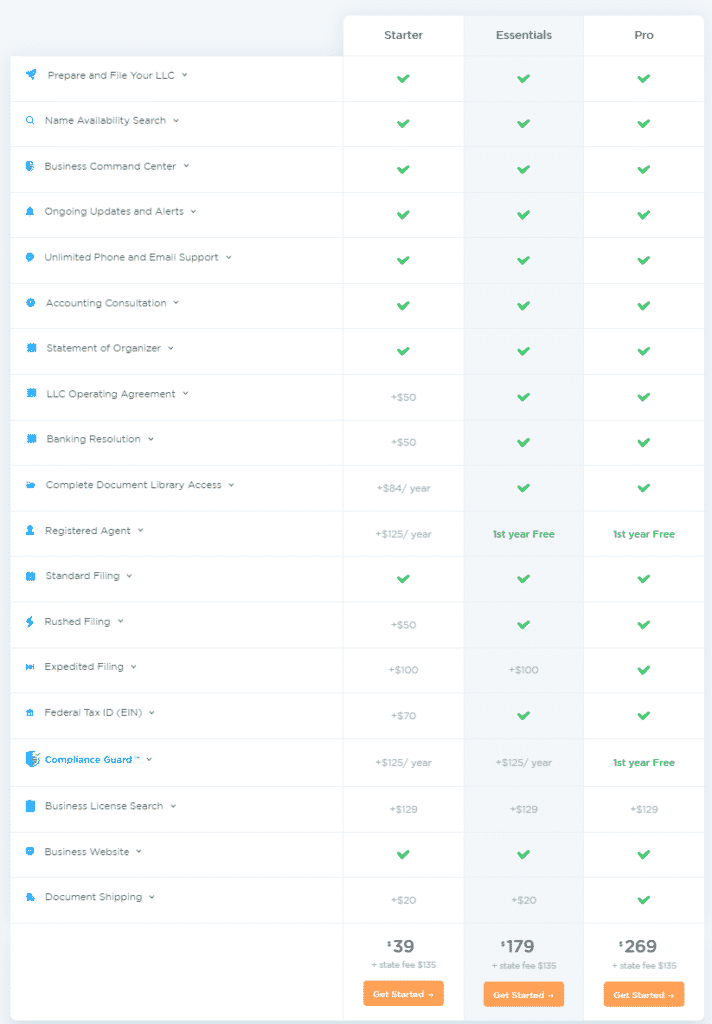 As far as LLC filing services go, LegalNature stands out as one of the most affordable and effective given the range of services it provides at rather agreeable rates.
Let's first go through the three main packages and then move on to their single-payment options and other business services.
Starter: $39 + state fee
Despite its name, their Starter package actually covers a wider range of features compared to similar plans from some formation services.
On the downside, the registered agent service is not included with this plan and can only be purchased separately.
By subscribing to this package, you will be getting the following services:
Preparation and filing of your LLC Articles of Organization;
Free business name availability search;
Status updates and other important notifications;
Access to their customer support network;
Personalized account management with their online business command center;
Free consultation from their accounting team;
Preparation and filing of the statement of the organizer;
Free business website hosting with Wix.
Essentials: $179 + state fee
This option includes everything you see in the Starter plan while adding on quite a few helpful business services, including:
A year of free registered agent service;
Drafting of your LLC operating agreement;
EIN acquisition;
Opening a business bank account;
Rushed business day filing;
Free access to their document library with free templates.
Pro: $269 + state fee
Although the most expensive option, this is also the fastest. In addition to all previously listed features, the Pro package offers:
Expedited business day filing;
Free access to their Compliance Guard service for a year to manage your compliance documents such as annual reports, meeting minutes, amendments, and more.
Delivery of all physical copies of your official documents by post.
Note: The speed of rushed and expedited filing options depends on the efficiency of your state office.
Additional Features
Single Document Filing: $34.95 — $78.95
This option is a more reasonable solution for establishing an LLC without committing to a subscription and automatic monthly or annual charges. Here, you can find common corporation and LLC formation documents, but there's much more to their library.
If you need to add an unrelated filing to your Legal Nature LLC paperwork but don't want to pay for a plan, there are plenty of templates to choose from, including estate planning, personal and marital affairs, residential and lease-related documents, healthcare, HR, commercial property and other business-related solutions.
Document Library Monthly Subscription: $38.95 — $58.95
Trying out their monthly payment option is less expensive and gives you a chance to cancel before the next payment is due.
There are two payment options: standard — $38.95/month and professional payment — $58.95 a month, plus, you can use their free 7-day trial to see if it works for you at all.
If you only want to open an LLC but would rather avoid a regular package subscription, this option gives you access to all document categories available to use whenever you need to make a new filing.
Document Library Annual Subscription
Compared to the monthly subscription, the LegalNature annual option is naturally more expensive. If you are ready to commit, you can choose between standard — $84/year and professional — $499 payment plans. The subscription works as a more cost-effective alternative for starting an LLC while also giving you access to the LegalNature database.
Business Services
Another option to start a business without subscriptions is to pay LLC separate fees according to your immediate needs. Stand-alone services involve no LegalNature LLC packages or related fees.
Keep in mind that LegalNature LLC pricing can be hefty when it comes to their separate services:
Business Formation — $39 + state fee
EIN application — $70
Registered Agent Service — $125/year
Certificate of Good Standing — $89
Articles of Amendment — $75
Articles of Dissolution — $99
Foreign Entity Registration — $129
Certified Copies — $20
Personalized Estate Plan — starts at $79
Expedited Passport Service — starts at $125 + US Government fee.
Advantages & Disadvantages
Advantages of LegalNature
Budget-friendly options: LegalNature's fair price is one of the company's strongest points given that their base plans start at only $39 for opening an LLC and $38.95 for document library access;
Reliable customer service: the company guarantees unlimited customer support via phone and email, including free accounting consultation;
Strong refund policy: unlike the equivocal refund guidelines of its many competitors, in this case, you will get a 30-day money-back guarantee from LegalNature as stated in their terms of service;
Accessible: LegalNature's website is easy to use and navigate, while their pricing and service descriptions are made clear from the start.
Disadvantages of LegalNature
Limited registered agent access: although this service is available with all formation packages, you only get one year free with more expensive subscriptions, meaning that you'll be paying another $125/year for the registered agent if you choose their $39 Starter package;
Shortage of niche specialists: on the one hand, the company offers accounting help for setting up and running a business, but on the other, it doesn't handle any tax consultations or provide regular attorney support which is by far one of the biggest cons of LegalNature; still, while there is no free consultation regarding taxation, the website offers educational resources on the subject;
Lack of customization for business registration: LegalNature's plans may be relatively comprehensive, but there is no way to start a free trial with any of these options since it's only available with their monthly document library subscription.
LegalNature Customer Reviews
The company upholds a decent reputation based on opinion and the selected feedback of LegalNature's satisfied customers and experts.
Trustpilot
Their Trustpilot rating is by far the most consistently positive, having amassed more than 4,754 reviews since the creation of their profile in 2014. Holding the overall rating of 4/5 stars on Trustpilot can be taken as an indication of the company's reliability.

BBB
When it comes to LegalNature reviews on BBB, the profile is not exactly brimming. And while BBB is not a platform that tends to host over 3,000 five-star reviews online per profile, LegalNature's total number of reviews is six, five of which are negative.
As for the expert rating, the service was awarded an A+ although the company is currently listed as not BBB accredited.
Yelp
Sadly Yelp is another platform where the company's profile is rather lacking with currently only one customer review.
Bottom Line
All in all, LegalNature is a decent option if you want to incorporate a new business. And although LegalNature's assistance is lacking in some aspects, they are an excellent choice for handling legal documents for an LLC or complying with the state's legal requirements thanks to their extensive template libraries and compliance service.