Last updated on: July 27, 2021
If you plan to form an LLC but unsure where to even start, consider hiring an online formation service that can make the entire process faster and more accessible.
When it comes to formation services, the current market offers dozens of options with various levels of flexibility. Despite being one of the lesser-known companies in the LLC formation industry, Incorporate Fast Inc. offers affordable and competent formation services and further support nationwide.
IncFast got their start in 2002, having formed over 25,000 companies in that time and established itself as highly reputable with their competitors and customer base.
Given the high levels of competition in the field of LLC formation, online or otherwise, it's all the more impressive that Incorporate Fast manages to hold their own against bigger companies by constantly improving their business solutions strategies.
This IncFast review will mainly cover the pros and cons of the service provider, including the following key aspects:
pricing;
features;
customer reviews etc.
Each of these points is in itself a deciding factor when it comes to choosing a formation company compatible with the needs of your LLC.
Aside from that, this IncFast LLC service review also expands on additional advantages of the service. Depending on your situation, these benefits could make Incorporate Fast the best decision for you, but it can also prove that you might want to consider other options.
Advantages & Disadvantages
It's much more prudent to make a decision when you have a full picture at your disposal. Based on their customer feedback, IncFast's advantages and disadvantages are as follows:
Advantages of Incorporate Fast
In each package for creating an LLC, Incorporate Fast includes a year of registered agent service. Not all of their competitors include this service in their main plans, instead offering it as a separate feature;
Drafting an LLC operating agreement; even though most states don't insist on this step to be mandatory, creating this internal document is highly recommended for a more stable operation. Operating agreement assistance is available with any of IncFast's formation packages;
IncFast's online portal provides regular updates for all relevant LLC maintenance requirements, making it easier to file the annual report on time. Plus you can access your formation documents at any time as well as various government forms and other templates;
Their efficient LLC service application can save you a fair amount of time. According to IncFast, their application process will take you only 5 minutes;
They hold one of the best processing times in the industry, not to mention that IncFast's website offers real-time monitoring of your LLC formation status, down to every timestamp, and not many competitors cover this in such detail;
Their extensive industry experience and positive feedback regarding their customer service work in the company's favor, further reinforcing their reputability and professionalism;
IncFast's website is equipped with the latest data protection tools that ensure the safety of their customers' personal data assets.
Disadvantages of Incorporate Fast
IncFast's alternatives include a fair number of cheap LLC formation services that can create a business entity for much lower rates;
Despite the impressive volume of their customer base that exceeds 25 000 clients, IncFast is somewhat lacking on the customer reviews front, making it difficult to assess their effectiveness based on the first-hand experience;
Their $199 Deluxe and $299 Premium packages cannot exactly justify such steep rates based on the services included in each plan.
IncFast LLC Packages
Incorporate Fast offers three packages to assist with LLC formation: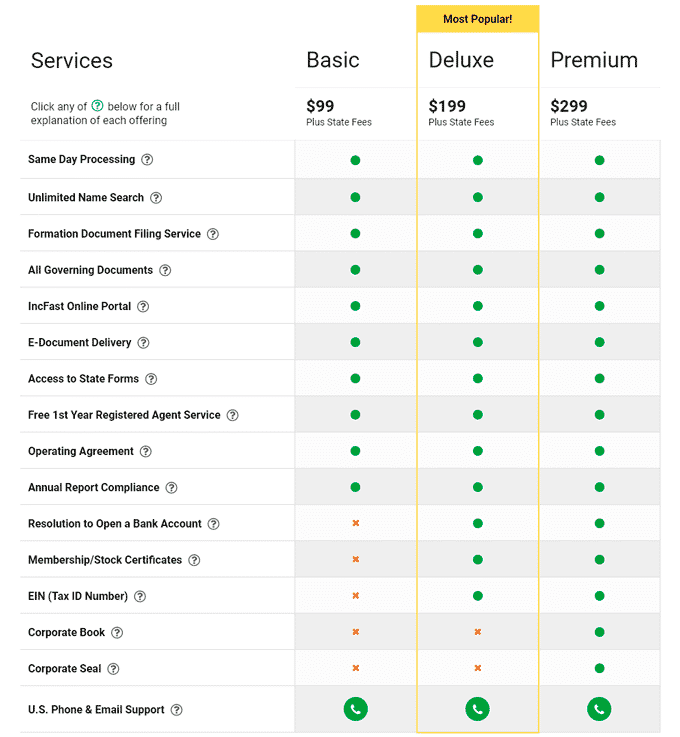 Let's take a closer look at each of the packages and determine the main differences that separate these options.
1. Basic Package
For their Basic package, IncFast charges $99 + state fee, making it the best option out of three for everyone wanting to save some money. By purchasing this plan, you can get everything you need for creating a business plus a few additional features.
Name Availability Searches: checking the availability of your company's name is a crucial step for drafting the Articles of Organization. Most states require for the business name to be unique, and this tool allows you to avoid choosing a name that's already been taken in your state by another company. To make sure your desired LLC name is available, IncFast can do all the necessary search in your state's databases;
Articles of Organization (Preparation and Filing): to officially create your LLC, IncFast will draft and file this document on your behalf, after which your company will be officially registered with the state;
One Year Registered Agent Service: all states require their LLCs to designate an active registered agent who acts as an intermediary, forwarding all state correspondence and official documentation to the company. By hiring Incorporate Fast to form an LLC, you will automatically receive 1 year of registered agent service free of charge, after which the subscription will go for $125 per year;
IncFast Online Portal: Incorporate Fast expands their customer support with its IncFast Online Portal feature that helps you with long-term business maintenance, provides access to state forms, and gives you the option of receiving all documents via email.
Annual Report Compliance: this feature is added automatically with the plan and costs $100 + state fees but you can cancel it 60 days before the payment is due. If you choose to cancel the service, you can still use their calendar to meet compliance requirements of your state and keep up with annual or biennial report filing deadlines;
Same Day Processing: all documents will be processed on the day of your filing and submitted with the state, with the exception of weekends;
Operating Agreement: a business entity of any type needs to establish its internal framework to ensure the stability of its operations. Here, IncFast can help you by drafting an Operating Agreement for your company where it can outline the following points:
rights and responsibilities of LLC owners/members;
goals and strategies of your LLC;
key procedures and other legal processes that stabilize the inner workings of the company.
2. Deluxe Package
For this option, IncFast charges $199 + state fee for LLC formation and includes all features from the Basic package, plus a few additional services described below. Deluxe package could be a good fit for LLCs that plan to hire employees or those classified as taxable entities.
Federal Tax ID Number (EIN): an EIN is to a business what a Social Security Number is to an individual. This unique nine-digit number is issued by the IRS for easy identification of your LLC. Even though you can get an EIN from the IRS for free, IncFast can help deal with all of the paperwork involved in the process and save you time and effort;
Membership Certificates: Incorporate Fast can issue the necessary membership or stock certificates that act as proof of ownership and state asset allocation of the LLC membership group;
Banking Resolution: with this service, IncFast issues a fill-in form that helps you open a business bank account. The form authorizes you to open a bank account on the behalf of your LLC.
3. Premium Package
Anyone who prefers to stick close to tradition will likely enjoy IncFast's Premium package. For the price of $299 + state fee, this plan includes all features from the Deluxe package, plus a small addition:
LLC Kit and Seal: more of a symbolic gesture, this additional service is IncFast's way of personalizing your experience by sending you a small kit featuring:
Corporate book: a binder with copies of all documents;
Corporate seal: an official company seal with your LLC info.
2 Alternative LLC Services
The current market is luckily brimming with choices of online LLC service providers, making it much easier to find an alternative. So if IncFast is not the most suitable of options for your business, you have the freedom to pick from dozens of other services.
Let's look at the 2 online companies widely considered to be the top best performers in the industry, both of which offer good value of service.
ZenBusiness: perhaps one of the top service providers when it comes to the best combination of pricing/features. ZenBusiness is exceptionally affordable as well as inclusive, charging only $39 for their base package. They can form an LLC company with greater speed and ease while also providing an entire year of free registered agent service. They offer more or less the same selection of features found in IncFast packages, except they charge you $60 less. ZenBusiness also has over 5,000 positive customer reviews online, making it all the more reliable;
Northwest Registered Agent: another appealing alternative to IncFast, Northwest will be a suitable choice for entrepreneurs that value individualized approach and premium customer support. They charge $225 to register LLC entities and include 1 year of registered agent service, though the company is highly renowned for their customer support service. Unlike many competitors, Northwest scans all documents and forwards it to your company as opposed to scanning only legally required documents.
IncFast Reviews From Customers
Even though some of their competitors have received a higher volume of reviews, the quality of the services IncFast offers is in no way undermined by the modest quantity of their customer reviews.
It might seem odd that with 15+ years in business and thousands of clients, IncFast only has about 10 reviews online that can be counted as customer feedback. First-hand experience testimonials are an important factor for many entrepreneurs, so it's understandable if that turns you off.
Still, there is some feedback for the IncFast customer experience that can be found with the BBB. Incorporate Fast holds the 5/5 star rating based on 3 positive reviews, but it's their accreditation that makes them truly stand out. BBB specialists have awarded the service A+ rating which is the highest professional score available.

According to the California Secretary of State's business entity database, Incorporate Fast Inc. was registered in 2013, contesting the statement on their website. Regardless of their official launch date, the company still boasts years of experience in the industry.
Is IncFast the Right LLC Service For You?
IncFast has all the necessary industry experience and qualifications to provide your company with LLC formation service of the highest quality and at fairly affordable rates.
Their strongest points are by far their quick turnaround times and direct experience. Moreover, all their packages include 1 year of free registered agent service which is more than most of its competitors have to offer in this regard.
All that said, keep in mind that every company requires a more individualized approach based on its needs. There is no single online service provider that can fit the needs of every existing LLC.
If you're still unsure whether IncFast is a suitable option for you, below is a brief summary for both cases that might help you come to your final decision.
✔ When to Set up an LLC with IncFast
Hiring IncFast to register an LLC is beneficial for entrepreneurs who value high formation speeds and relatively affordable rates that cover a year of registered agent service.
✖ When NOT to Setup an LLC with Incorporate Fast:
If you'd rather form your LLC for cheaper rates or prefer LLC formation packages with more expansive features, it's generally a good idea to consider other options.
Final Verdict
IncFasy is a professional LLC formation company that could prove to be highly beneficial for your business management needs. They have plenty of advantages, including:
1 year of free registered agent service;
personalized operating agreement form in all LLC packages;
simple order procedure and fast processing;
the most detailed order status report in the industry;
vast experience.
Despite some competitors offering the same limited liability company formation plans for lower prices, IncFast are fairly utilitarian with their pricing. All in all, their service is more than expedient