Last updated on: July 27, 2021
If you are planning to start your own business and looking for reliable LLC formation services, think about hiring CorpNet. The company has been active in the market since 1997 and has already formed over 100,000 businesses, having a large number of satisfied customers.
You can see that all of the CorpNet LLC service reviews on the Internet are positive. People appreciate their fast and high-quality work because CorpNet really does its best.
CorpNet's ownership group is a good choice. It has extensive experience and adheres to high standards of service. Is it the right fit for you? To answer this question, let's take a look at their service packages, paying attention to price and service offerings, and pointing out the main advantages and disadvantages.
Let's figure out why you should address Corpnet to form the LLC.
CorpNet LLC Pricing & Features
Compared to hiring an attorney, setting up a business with CorpNet will cost much less. However, there are several cheaper LLC services that can provide you with the same services but for less. CorpNet's prices are in the middle range. If you want to form an LLC, they will offer different tiers of LLC service packages, with different costs and sets of services:
Although these packages are inferior to some other online companies in terms of the number of services, CorpNet has its strong points. For example, they will provide you with a free registered agent and some other bonuses. To get the full list of features available, check out the information below.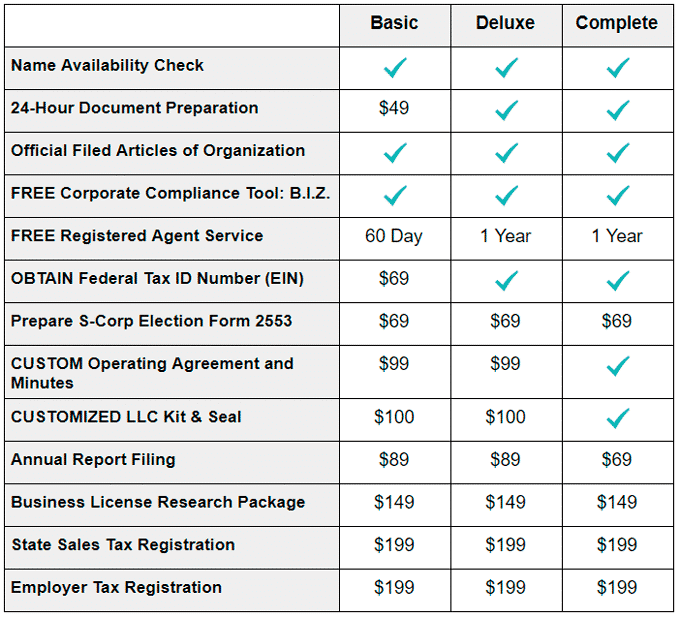 CorpNet Basic Package = $108 + State Fees
Prep and Filing of Articles of Organization: CorpNet will draft forms for your company and send them for approval;
Corporate Compliance Tool: with CorpNet B.I.Z., you'll never miss deadlines for tax filings, annual reports or other important documents. Besides a reminder system, this service can also act as a backup repository for your documents;
Name Availability Check: in order to officially form your LLC, you should make sure that your desired company name is available. Checking the state's business database, CorpNet will take care of that for you;
60-Day Registered Agent Service Trial: to create your new business, you will need to indicate your Registered Agent information in the Articles of Organization. Cooperating with a professional service is a good way to avoid disclosure of your confidential information.
Thus, Basic Package contains everything you need to start an LLC. It is a good option for entrepreneurs who are focused on minimum costs.
CorpNet Deluxe Package = $228 + State Fees
One Year Registered Agent Service: a qualified Registered Agent will relieve you of some of the responsibility for the company's paperwork. All important legal documents, as well as tax and legal notices will be handled exactly according to state law. After the free period, you can renew this service for $149 per year;
Federal Tax ID Number (EIN): in its functions, an EIN corresponds to a Social Security Number and is assigned to each company that plans:
open business bank accounts;
hire employees;
pay taxes, etc.
24-Hour Document Prep: within 24 hours of your purchase, your fully prepped forms will be submitted for approval;
Print Delivery: CorpNet will provide a hard copy of formation documents of your company.
This package is appropriate for those who want a free registered agent service from CorpNet for 1 year. And also for those who prefer to pay a little extra to avoid wasting time and effort on paperwork that is necessary for operating an LLC.
CorpNet Complete Package = $278 + State Fees
LLC Operating Agreement: you should consider in advance how the LLC will operate. The Operating Agreement establishes the ownership structure and all basic procedures to ensure efficient and smooth work. CorpNet will take care of the development of this important document;
LLC Kit and Seal: a decorative binder and seal with your company name printed on them.
Complete Package is the best option for those who want to focus on business planning as much as possible and entrust the paperwork to professionals.
Advantages & Disadvantages
Advantages of CorpNet:
Lots of positive customer reviews: the vast majority of CorpNet's online feedback praises the company's services;
A great combination of a high level of experience and a personal touch. Through the years, CorpNet has helped create tens of thousands of businesses, with attention and care. This distinguishes it from many other good LLC services that cannot boast the same level of personalized service;
There is a 100% satisfaction guarantee on all services in the CorpNet LLC service package. If you are not satisfied with the quality of service, the company will refund all fees you paid, except for state fees;
There is very responsive customer support. They offer bilingual support, also in Spanish. You can contact them from 10am to 8pm ET every weekday;
Their LLC formation service package includes a free registered agent. However, the basic package provides this service for only 60 days.
Disadvantages of CorpNet:
CorpNet's advertised prices are different from the costs they actually charge. They do ship your documents via USPS Priority Mail, but you'll need to add the mandatory $29 charge onto their listed price points;
The CorpNet Basic LLC formation package costs $108, which is the average price on the market. However, it includes only 60 days of registered agent service, while some competitors offer an LLC formation package with a full year of registered agents for less.
2 Popular CorpNet LLC Alternatives
There are many online LLC creation services that can take care of some of the paperwork. CorpNet is a strong choice for LLC services, but if their benefits don't feel right to you for any reason, there are a lot of alternatives. For example, online companies such as ZenBusiness and IncFile are also very popular.
ZenBusiness
A good CorpNet alternative is ZenBusiness, which provides packages of business creation and setup services. A definite plus of this company is that ZenBusiness' pricing for LLC service is only $39. For that money, you not only get a fast and high-quality LLC formation service, but you also get a year of registered agent service for free.
IncFile
This company is the best-value service available, because their basic package costs $0. Without cheating or extra fees! In addition, by getting any of their LLC formation packages, you also get a whole year of free registered agent service.
CorpNet Reviews From Customers
CorpNet has fewer reviews than companies like IncFile or ZenBusiness. Nevertheless, there are over 400 CorpNet reviews on the Internet, the nature of which indicates that this company is highly popular. Customers like CorpNet's excellent support agents, as well as the speed and quality of their work.
If you are inclined to make a decision about working with a company based on their customer feedback, check out CorpNet reviews on Trustpilot.

Is CorpNet Right For You?
If you need help with starting a business, CorpNet is a reliable provider of LLC formation service that will do it quickly. They may not be right for every single business customer, but in general the company offers a high quality for a reasonable price.
When to Form an LLC with CorpNet:
You like 100% satisfaction guarantee and the possibility to get your money back in case of low-quality services;
You want to enjoy great customer support that is individualized and responsive to all your requests;
You are attracted by the opportunity to work with a reliable family company;
You appreciate positive reviews as one of the company's main strengths.
When NOT to Form an LLC with CorpNet:
You want to save money by working with a company that offers a cheaper base rate;
You are interested in buying the basic service package, which includes a full year of registered agent and other free features.
Final Verdict:
All in all, CorpNet is a good well-rounded formation service provider that can offer fair pricing and high quality services. Their packages include everything you need to start a successful business, including some free features. The advantages of this company are:
Personalized approach;
100% satisfaction guarantee;
qualified customer support.
CorpNet's professionalism and reliability have been confirmed by numerous high-quality customer reviews. But at the same time, this company is not among the leaders of this industry. If you are not interested in the advantages of CorpNet, you can easily find several other competing services that offer similar services at lower prices.
---
Frequently Asked Question
---
Does CorpNet Have Good Customer Support?
Yes. Strong Customer Support is one of the main advantages of CorpNet. They are always ready to give you a quick response and maintain a personal touch, what many of their competitors don't do.
Does CorpNet Offer Any Discounts?
Yes. You can get a СorpNet coupon for a 10% discount. All you need is to enter the code "CORP10" at checkout on their website. The discount is valid on all offers except the basic package and state documents.
Do They Have a Refund Policy?
Yes. CorpNet offers a 100% money-back guarantee if you are not satisfied with the quality of the service provided. You have 60 days from your purchase date to request a refund.
What Is the CorpNet Customer Support Phone Number and Email?
To contact CorpNet Customer Support, call 888–449–2638.

You can also email them. Depending on the topic of your question, use one of the following addresses:

General Information: info@corpnet.com;
Sales: sales@corpnet.com;
Customer Support: customerservice@corpnet.com.
Other Than LLC Formation, What Else Can CorpNet Do?
As an additional service, CorpNet can help you with:

– Compliance with reporting deadlines;
– The procedure of dissolution;
– Amending the Articles of Organization;
– Getting foreign qualification, etc.
How Quickly Does CorpNet Process LLC Formations?
The turnaround time of CorpNet depends on the specifics of the state where you choose to register your business.

Standard processing usually takes 15–20 business days. If you don't want to wait, you can order expedited processing for an additional fee.