Last updated on: July 27, 2021
Although the opportunity to open an LLC online may save time and energy, the process requires discipline and skill. You need to know certain rules to turn your business idea into reality as a successful LLC.
Hiring a professional company, such as BizFilings for business formation process, is a good way to save money and avoid possible difficulties. Experienced specialists will not only help you with understanding the information provided on government websites, but will also provide you with high quality documents. At the same time, their prices are much more reasonable than the services of attorneys.
But how do you know whether BizFilings is right for you?
In this review, we will discuss the pros and cons of this choice, as well as outline the most important features of BizFilings, such as:
Pricing;
Features;
Customer feedback, etc.
Let's get started!
BizFilings Packages
To open your LLC with this company, you can choose one of three BizFilings formation packages:
Basic: $99 + State Fee;
Standard: $229+ State Fee;
Complete: $359+ State Fee.
Note that prices for BizFilings' packages of Standard and Complete vary greatly from state to state. In some of them, the Complete package costs $199, while in other states it is up to $434. You also have to pay an additional state fee, which makes the total amount quite substantial.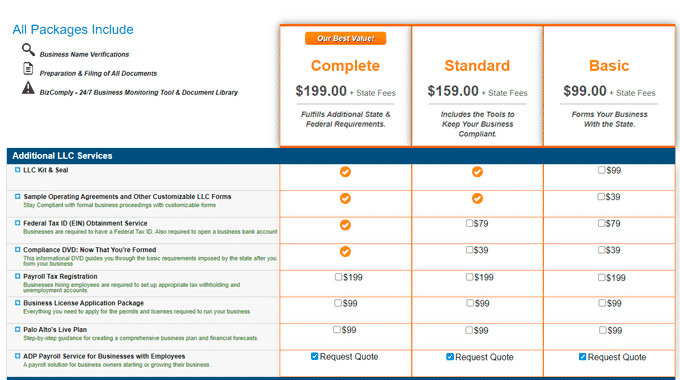 BizFilings Basic Packages
If you need a package that includes everything you need to start a business without any extra features, the Basic package is the best option. Its price of $99 + State fee is an average market offer. For that money you will get:
Name availability searches;
Articles of Organization (preparation and filing);
6 Months Registered Agent Service;
BizComply Tool (this online compliance management tool helps you keep track of state-specific rules, regulations, and filing deadlines);
Document library access.
BizFilings Standard Packages
Compared to the Basic package, the cost of the Standard package is much higher. It is about $229 + State fee, but the benefits that come with using this package are not so many:
LLC Seal and KIt;
Rush Processing Service;
Sample operating agreements and other customizable LLC forms.
What is important to keep in mind when deciding on a purchase is that the expedited processing service, in fact, does not guarantee a fast result. At a cost of $60, it does not affect the speed of the processing of a company's documents by the state. If you order it, BizFilings will only give your application priority over other requests they receive, without setting any specific time frame.
In addition, the Agreements and LLC Forms offered in this package do not justify its high price. You can get all these things through the BizComply tool, available even with the Basic package.
BizFilings Complete Packages
Besides the services included in the previous two packages, the complete package contains:
EIN Registration;
Certified Filed Document Copies;
"Now That You're Formed" Compliance DVD;
Shipping Overnight.
In comparison to the Standard package, the features mentioned here do add some value to this option. However, the price of $359 + State fee seems unreasonably high, because there are many competitors that offer similar features for less.
You will find more information on their official website.
Which Packages Package is Best?
Among all the options we have discussed, the best combination of price and features provides the Basic package. Its cost is quite reasonable, and the services included in the package are really necessary for a successful business startup.
Features and Services
Business Formation Services
In case you are looking for a company that can help you register LLC online, BizFilings can handle it easily. Due to their vast experience, there are no impossible tasks for them in this field.
It is also a definite plus that this company can form an LLC in any state where you want to open a business.
Registered Agent Service
According to law, an LLC registered agent is a person who will act as a mediator between the state and the company. His main responsibility is to receive official correspondence addressed to the LLC, such as:
Tax notices;
Legal documents;
Important government documents.
To be registered, each company must choose and designate a registered agent and enter their information in the Articles of Organization.
Most online companies that are professional in creating and setting up a business also provide a registered agent.
Unlike many competitors, BizFilings offers free registered agent service for 6 months. After that period, the cost of annual service will be $164. This is not the lowest price on the market, but quite reasonable.
Besides receiving official correspondence, when you order a registered agent from BizFiling, you will get:
Notification of the deadline to file your annual report and assistance in filling it out;
A warning of the need to pay the franchise tax;
Access to the online BizComply monitoring tool, which serves to operate the company in compliance with legal requirements.
Incorporation Wizard
One of the main aspects of starting a business is choosing the legal structure that fits your business goals and needs.
The free Incorporation Wizard service will help you find the best option among the many different types of businesses. To identify what the best LLC form is, you'll need to provide some information about your future plans, financing options, taxes, and income.
License Wizard
Depending on the field of activity and location, most LLCs are required to obtain one or more licenses. They can be provided for at all levels of government:
If you don't want to waste time compiling the list of licenses needed for your business, BizFilings can take care of that work. They will also provide preparation and filing services for $99.
Trademark Explorer
Recognition is an important part of business development. However, to register your business name, you should also take care of the uniqueness of your trademark. The Trademark Explorer allows you to check its availability, avoiding possible difficulties with the trade name in the future.
BizComply
BizComply is a popular and very convenient tool that allows you to keep track of any important filing dates and compliance deadlines. All events are marked on the calendar. When one of them is coming, you will receive a notice to your email.
Also, BizComply contains a library with an extensive set of templates and documents.
The service is free for the first 6 months. The cost of the subsequent annual service is $75.
Online Resources
With their years of experience in business creation and support services, the BizFilings website has the answer to almost any related question. The variety of BizFilings online resources is shown in written guides, webinars and checklists covering the following topics:
Comparison of different business types;
How to start an LLC;
Management nuances;
Types of taxation;
Marketing;
Specifics of state legislation, etc.
Simplified Formation Process
If you are facing the LLC formation for the first time, it may seem a bit confusing. Fortunately, BizFilings has simplified it by dividing it into 5 easy-to-follow steps:
A standard quality check of the Articles of Organization;
Name check;
An LLC registration;
Post-incorporation business support.
Business Dissolution
If you decided on a dissolution, using business dissolution services can make the process as comfortable as possible. For a $179+ State fee, BizFilings will offer you features like:
Prepping and filings for LLC dissolution;
Shipping these relevant documents to you.
Expedited delivery is available for an additional fee of $200.
Compared to competitors, dissolution services from BizFilings are quite favorable, that makes this company one of the best business dissolution services in the industry.
Preparation and Filing Services
Besides the Articles of Organization, there are a number of other documents that BizFilings can prepare and file:
Annual report;
Application for business name reservation;
Obtaining an EIN;
Foreign Qualification;
The Articles of Organization amendment;
Dissolution, etc.
BizFilings Pros and Cons
BizFilings Pros
A secure website with lots of free information that will be useful to both aspiring and current entrepreneurs;
Excellent reputation and extensive experience;
Providing a free registered agents service in any business formation package;
No hidden fees;
A unique BizComply service that helps you meet reporting deadlines and maintain your company's good reputation;
Easy-to-use tools, such as:
License Wizard;
Incorporation Wizard;
Trademark Explorer.
7. Customer Support with well- trained specialists;
8. Error-free guarantee: if in the business activities your company faces a mistake made by BizFilings during the preparation and submission stage of the Articles of Organization, its correction will not cost you a cent.
BizFilings Cons
Relatively high costs with a small number of services, including free services. For the same amount of money many competitors are ready to offer a more favorable offer;
Imprecise formulations. For example, their $60 "expedited processing" service. Based on the name, you might think that it provides faster approval of your company documents by the state, but that's not the case. When you order this service, BizFilings will only give your application priority in their internal review line. If you want faster service from the state, you will need to pay extra for that.
BizFilings Customer Reviews
Today, BizFilings' LLC formation services are among the best in the industry. The company has successfully held its position in the market for decades and has served more than 500,000 clients. However, there aren't as many BizFilings reviews online as you might expect with such an impressive track record.
At the time of this writing, there are less than 10 reviews on various resources. Most of them are positive. Customers praise BizFilings features customer support and the quality of the company's work. Of course, such a small number of reviews can be an obstacle if you usually make a decision based on them. However, the fact that BizFilings doesn't have a stream of criticism is not bad.
BizFilings Review Conclusion
Concluding our BizFilings review, we can say that BizFilings provides a good set of services for creating and maintaining an LLC. Their years of experience and 500,000 formed businesses speak for themselves. Even if your state has advanced business start-up requirements, BizFilings will make the process as quick and comfortable as possible. They have a simple ordering procedure, and customer support responds to requests in the short run.
In comparison to some competitors, however, the prices of BizFilings seem a bit high. If you want to save money, there are several alternative business formation companies that provide similar services at a lower cost.