Last updated on: July 31, 2021
Hiring a professional online company is the most convenient way to open an LLC. It will not only save you energy and money, but it will also minimize paperwork, giving you time to plan your business.
Nowadays, the LLC formation industry is full of different offerings. Lots of services advertise their services for starting and setting up a business. However, not all of them are profitable and of the same quality. To choose a truly reliable service, working with which will benefit you, it is better for you to pay attention to the leaders of this industry.
InCorp is one of these companies.
Despite heavy competition, InCorp retains its strong position. They have 20 years of experience providing business services and more than 125,000 active clients that can prove their high professionalism.
No matter what task you assign to the InCorp team, they will solve it in the best way and as fast as possible.
In this InCorp LLC service review we will take a look at the basic information about this company, discuss their pros and cons, pricing, and the services included in their LLC formation package.
Let's get started!
Advantages & Disadvantages
Advantages of InCorp:
Extensive experience: during their activity, the company successfully formed more than 125000 companies;
Great customer feedback: if you check out online customer reviews, most of them will be positive;
Price match guarantee: if you find a similar service at a lower cost, InCorp is ready to reduce the price of its service to that level;
Profitable registered agent service: if you bring an advance payment for 5 years or more, InCorp will provide volume discounts, which will significantly reduce the price. The cost of the service will be $67 per year compared to the usual $99. Despite the fact that InCorp's price of LLC formation is not the lowest on the market, their great rates for registered agents service is very attractive. Not many competitors can rival this offer;
A convenient and secure website with more than 100 useful articles, a glossary of business terms, and FAQs section;
Strong customer support, working bilingually and on an extended schedule;
A free business management system that allows you to monitor reporting deadlines, store important documents, etc.
Disadvantages of InCorp:
Although the InCorp website indicates $99 for LLC formation service, you actually have to pay a bit more. In fact, the total to at least $117, because you have to add the mandatory $18 to the $99 for shipping documents. For that money you can find several cheaper LLC services. And some of them offer business formation with a year of registered agent service already included in the LLC formation package for free;
In order to use the price match guarantee feature, you need to prove that the cheap LLC services are exactly the same as the one offered by InCorp.
InCorp LLC Formation Packages
InCorp does not offer several levels of LLC service with different cost and range of services. Instead, they have a base LLC formation rate of $117 with the ability to choose from a number of additional features.
LLC Formation Service = $117 ($99 + Shipping)
Preparation and Filing of Articles of Organization: according to law, to form an LLC officially, you must file the Articles of Organization. This is the fundamental document of any company. In order for the approval process to go quickly, you should be careful with the process of its creation. Any mistakes made at this stage may cause rejection of your application or the need to make changes in the future;
Name Availability Search: the most common reason for rejection of the Articles of Organization is when your name is already in use by another company. InCorp can use the official business database to make sure your desired name is free;
Domestic 2-Day Shipping: it's pretty quick. But if you don't want to wait, you can order an expedited option. Overnight delivery service costs an additional $6.
A La Carte Features
Depending on your request, InCorp can also provide such services as:
Registered Agent ($67–99/year): every company must have a current registered agent. If you pay for this service a few years in advance, you will get volume discounts that reduce the price, making it even more attractive:
1 Year: $99/year;
2 Years: $89/year;
3 Years: $80/year;
4 Years: $73/year;
5+ Years: $67/year.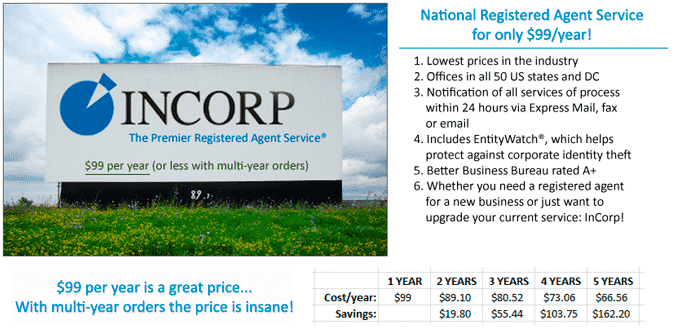 Certificates of Good Standing ($35 plus state fee): a document proving that the company meets all state requirements may be useful for:
Banking transactions, loan acquisitions;
Getting foreign qualifications, etc.
Federal Tax ID (EIN) Obtainment ($69): an EIN is a unique code that is assigned to each LLC that is required to pay taxes. It is similar in function to a Social Security Number for individuals and is required for:
Filing tax returns;
Hiring employees;
Opening a bank account, etc.
LLC Kit & Seal ($69 plus $18–24 shipping): a wax seal with the company name is a tradition from the times when authenticating important business documents was possible only with the help of its imprint. If you like the idea of having such decorative souvenirs, InCorp is ready to provide them;
"LLC for Dummies" Book ($24.99): a detailed guide to the LLC life cycle, with useful practical information and advice on how to prevent possible difficulties in your business;
Prepare IRS Form SS-4 ($35): this form is required to obtain an EIN. InCorp can save your time by completing and submitting it for you;
Managed Annual Report Service ($49/year): if you order this service, you will not have to worry about missing the deadline for submitting your Annual Report. InCorp will fill out and file all the necessary documents;
Domestic Mail Forwarding ($195/year): InCorp will not only be your Registered Agent who handles government documents, but will also take care of all your official correspondence;
License Research Service ($149): there are industries where LLC companies need to obtain more than one license at different levels of authority. To avoid wasting time gathering information and preparation, InCorp will draft all the necessary registration forms for you. For an additional fee, they can also fill out and file them on your behalf.
InCorp Customer Reviews
No doubt that customer feedback is the most significant indicator of the quality of a company's work. And InCorp is good at it. The majority of the reviews are positive, customers are satisfied with the speed of InCorp's services and the work of their Customer Support.
InCorp is a bit behind larger companies when it comes to the number of reviews. However, if you want to understand what the InCorp customer experience is, you can easily find the information you need.

Is InCorp Right For You?
If you need to form a limited liability company, InCorp is a good choice, proved by tens of thousands of clients. Among their advantages are years of experience, solid customer feedback and reliable Customer Support. In addition, the price of a registered agent service from InCorp is one of the most reasonable, that makes this formation service to be the best one for you.
Let's look at the factors that may help you make the final decision.
When to Form an LLC with InCorp:
You are looking for service, which balances competitive pricing of LLC formation and Registered Agent;
You are interested in wholesale orders or long-term prospect of working with this service;
You are planning to use the price match guarantee.
When NOT to Form an LLC with InCorp:
To save you money and get LLC Formation Packages which bundling services together, it is worth considering alternative LLC websites of similar companies.
Final Verdict:
InCorp is a decent company that has been providing business creation and support services for two decades. They have not the lowest prices on the market, but their offers are quite competitive. By choosing this firm, you are guaranteed to form your LLC quickly and with high quality.
---
Frequently Asked Question
---
Frequently Asked Question
Yes. Unlike some competitors, InCorp has its own professional team. They don't send clients to a large call center, so you don't have to wait very long for a response.
Other advantages of InCorp Customer Support are:
– The opportunity to have service in Spanish;
– They offer extended support hours (9 am-9 pm ET M-F).
What Is the InCorp Customer Support Phone Number and Email?
To consult with InCorp Customer Support by phone, call 1–800–2INCORP.

If you prefer email, use the Contact Us page on the company's website. Note that on the same page you can find web chat to ask your question to an InCorp specialist.
How Quickly Does InCorp Process LLC Formations?
Timelines vary from state to state, so processing times can range from a few days to a couple of weeks.