Last updated on: July 13, 2021
If you're looking for speed, affordability, and user-friendly customer support, you might want to consider Swyft Filings. This relatively young (founded in 2012) formation service offers great incorporation opportunities to both US and foreign entrepreneurs. With hundreds of positive online reviews, almost 10 years of successful experience, and a good reputation, this young company definitely stands out in the crowded industry.
Swyft Filings mostly specializes in LLC and nonprofit formation and management. Despite heavy competition, they have already conquered a significant market share and promise to handle your paperwork with no hassle.
This Swyft Filings LLC service review will give the information you need to make a decision on whether you should use their services for your LLC. This is where we're going to highlight the company's best features, customer support, turnaround time, and basic pros/cons of the company. Read on!
Swyft Filings Pros & Cons
Swyft Filings Pros
Affordability. Their Basic package starts at $49 (+ state fees) and includes name availability check, Articles of Organization, filing with the Secretary of State, Statement of the Organizer, full access to your incorporation documents, lifetime customer support, 30-minute tax consultation, company alerts, and a free domain name. For comparison, LegalZoom basic services cost $31 more ($79 + filing fees).
100% Satisfaction Guarantee. Yes, Swyft Filings will fully refund their service without any questions if you're unsatisfied with their service for any reason.
Fantastic User Feedback. Not only is it positive, but it's A LOT. You can find dozens or even thousands of positive customer reviews online. This means a lot when choosing a reliable company to form your LLC.
2-Stage Payments. The company allows you to pay for LLC formation in two installments rather than everything at once. So if you're on a tight budget, this feature can make a difference.
Free Business Tax Consultation. This free option is included even in their cheapest (Basic) package. You can expect a high-quality 30-minute business consultation on taxes, plus, you also get lifetime company notifications. All this makes Swyft Filings quite beneficial.
Free domain name. This one's included in the Basic package as well! You can get the service for one year (.com, .net, .biz, etc.) plus information with setting up your company email and website.
Swyft Filings Cons
No free registered agent service. At least, we haven't found one in any of their three packages. Swyft Filings offer a registered agent service separately for an extra $149 (billed annually). For comparison, IncFile can form an LLC for the same $49 but will also offer you a free registered agent service for one year.
Premium package cost. $299 for the most completed package is quite expensive when compared to similar services in the industry.
Upsells. This one goes without explanation. Most of the complaints centered around a lack of transparency.
Swyft Filings Pricing & Packages
How can you tell if an LLC formation service offers good value? Before we get to pricing and package features, let's figure out the basics.
In our opinion, a good LLC service should offer the following features:
Cost-effective LLC formation with the state;
One-year-free registered agent service included;
Custom LLC Operating Agreement.
If you agree with us, you can try ZenBusiness as an alternative. This LLC formation service includes all the above-mentioned features in all their packages. And it also costs $10 less!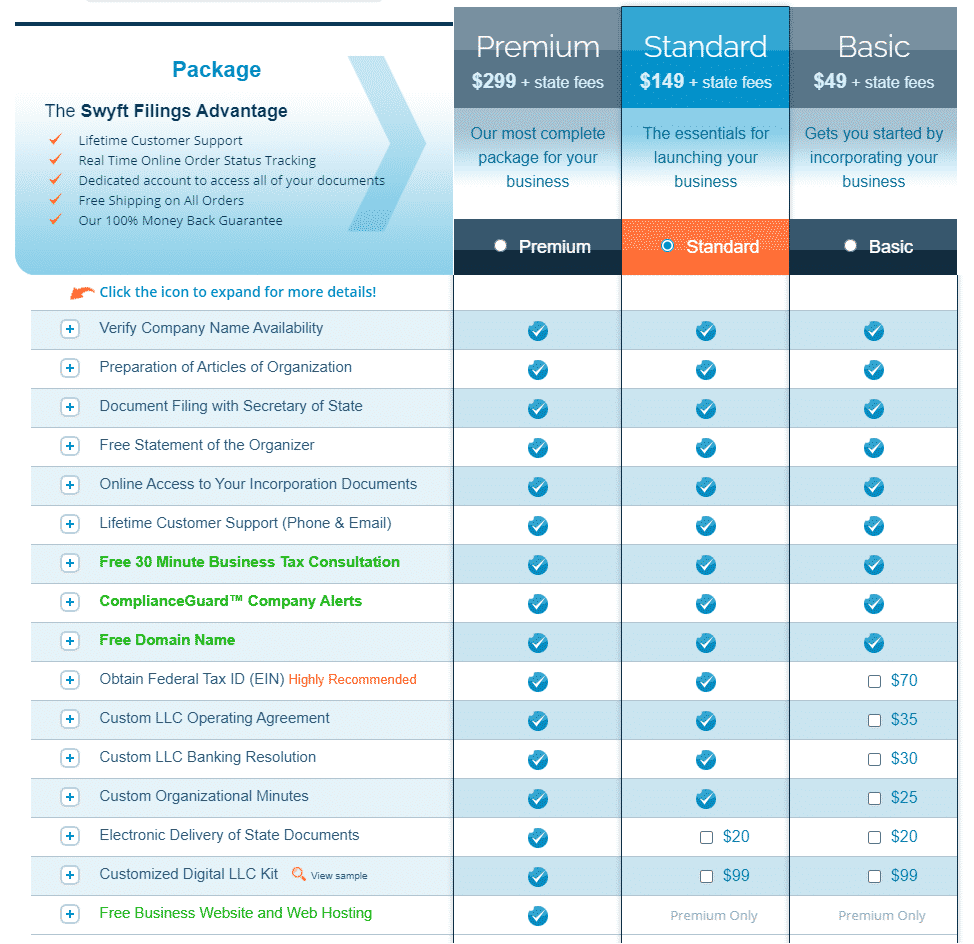 Basic Package ($49 + state fee)
Preparation of Articles of Organization and Filing With Secretary of State. You provide the information about your company, Swyft Filings carefully reviews it and does all the required paperwork to officially form your new business in the state. Moreover, they will also file it with the Secretary of State to legally incorporate your LLC. Once approved, you will officially receive your Articles of Incorporation (Certificate of Incorporation).
Name Availability Check. Before submitting your paperwork to the state, Swyft Filings will ensure that your chosen LLC name is available. If it's not, they will immediately contact you for alternate names.
Preparation of Statement of Organizer. Swyft Filings will help you with opening your business bank account. The Statement of the Organizer is an official document, created by the Organizer, that states the initial members or managers of an LLC. Swyft Filings will provide a signed and dated Statement of the Organizer for your business.
Full Access to Incorporation Documents. Swyft Filings provides full online access to your incorporation documents, which means you can view or download them 24/7 as well as track your orders whenever you want.
Lifetime Customer Support. Business experts are ready to help you with anything related to your business formation. They are ready to help you via email or phone and save you from stress and confusion. Swyft Filings' customer support is always fast, responsible, and friendly — just give them a call and find out for yourself!
30-Minute Business Tax Consultation. If you want to find out how you can reduce your business taxes and gain vital insights regarding your business tax requirements, this included feature is waiting for you. 30 minutes is quite enough to find out basic information regarding your business taxation and how you can use your business bank accounts. Plus, you can find out a few important tips to save your money!
Compliance Guard Company Alerts. This feature frees you of all the worries about your annual reports, publication requirements, initial reports, and other deadlines. Thanks to their corporate compliance tool, Swyft Filings ensures you never miss a required filing for your business.
Free Domain Name. Swyft Filings will provide your company with a free domain name (.com, .net, .biz, etc.) for one year. Plus, they will also help you properly set up your company email and website.
Standard Package ($149 + state fee)
With this package, you get everything mentioned in the Basic package, plus the following features:
Employer Identification Number (EIN). If you are going to hire employees and open your business bank account you will need a "social security number" for your LLC. This is what EIN actually is, and Swyft Filings will provide this nine-digit code to your company.
LLC Operating Agreement. This important legal document is required to outline the ownership structure of an LLC, how it will be operated, and protects its members from personal liability for their actions. The agreement contains basic regulations and rules, financial/management rights of LLC owners, and other provisions. Swyft Filings will draft this document for you.
Banking Resolution. This official document has a list of individuals (officers and members) authorized to open a bank account for your LLC and transact on it. Banking Resolution is often required by banks, and Swyft Filings will provide a customized document according to your company's information.
Organizational Minutes. "Organizational Meeting" is the first meeting of the LLC members. To conduct it, you will need your filed Articles of Organization and Operating Agreement. This form will help you set up your first meeting as an LLC. It's not required by law that you use Minutes for this meeting, or even hold the meeting in the first place, however, it can be really useful.
Premium Package ($299 + state fee)
This package contains everything from the previous (Standard) package, plus the following features:
Electronic Delivery of State Documents. After Swyft Filings will receive your incorporation documents from the state, you will immediately be able to download them via your personal SF account.
Digital Corporate Kit. An electronic version of a classic LLC kit and seal that includes various tools to ensure your company stays in compliance with the law. This feature allows you to properly mark your company documents — it includes a custom digital "seal" with the name of your company, establishment year, and state. There's also a dedicated ownership ledger to properly document all your company's ownership transfers, and 20 customized stock certificates to distribute formal ownership documents to the initial owners/shareholders.
Free Business Website and 3 Months of Web Hosting. Swyft Filings will provide a free website and 3 months of web hosting for your business through their partnership website-building service. That's how you will be able to stay in touch with your customers and talk to them online. You can get a basic mobile-friendly and secure business website, set up your online store in minutes, create custom portfolios and galleries, choose from 100 custom templates, etc. Don't forget though that you will have to cover hosting fees on your own after the three-month trial is over.
Swyft Filings LLC Alternative
Swyft Filings is definitely an LLC service to consider when thinking about launching your new LLC, especially if you're a small business on a tight budget and with limited time. However, there are so many other online providers, offering LLC formation services online, that you are able to find your perfect fit without any fallbacks, no matter how unique your business is.
With that said, let's take look at ZenBusiness, another reputable LLC service.
In our opinion, ZenBusiness offers the best value on the market today. Thus, we strongly recommend your to check their packages, and maybe you will become their loyal customer. They have the lowest pricing — even though their Starter package also costs $49 at the moment, it contains a registered agent service. Plus, ZenBusiness often has discounts and promotions. So if you're lucky, you can actually get their basic package for $39.
Swyft Filings Customer Reviews
SiteJabber — 4.5 stars from 32.284 reviews. Most customers are generally satisfied with this company's service. The key services that customers highlight with Swyft Filings are their Premium package and customer service.
Shopper Approved — 4.5 stars from 37.359 reviews. "Actual verified customers" on Shopper Approved are also quite satisfied with Swyft Filings, indicating their pricing, ease of use, and user-friendly customer support. 25,156 customers would recommend Swyft FIlings to others, and 25,145 would use their services again.
Trustpilot — 4.6 stars (Excellent) from 2.934. Here customers also highlight Swyft Filings' responsive customer support and ease of use.

As you can see, Swyft Filings has quite impressive average scores for a fairly young LLC formation service. The company has thousands of positive customer reviews, which indicates professionalism and a successful experience.
If you'd to find out more, we recommend you to read a few actual customer reviews on the above-mentioned sites. You can also visit BBB (Better Business Bureau) to check their ratings, as well.
All in all, most Swyft Filings' clients are really satisfied and happy with provided services, especially when it comes to their order-processing speed and user-friendly customer support.
Is Swyft Filings a Good Deal?
In almost 10 years of existence, Swyft Filings has gained tons of positive customer experience and has every reason to be popular. Their clients obviously don't have much to complain about and are quite happy to use the company's packages, stuffed with plenty of features.
The company is constantly growing and improving its services, gaining the trust of its customers. And it looks like it has all the chances to "beat" industry giants like LegalZoom or ZenBusiness in the future.
However, there are a few drawbacks, e.g. the high Premium package cost and the absence of the one-year-free registered agent service. These cons still don't let Swyft Filings become the number one choice for many entrepreneurs and startups.
Thus, this company might not be the right choice for every business. With that said, let's consider a few scenarios so you can understand if you should (or should not) hire Swyft Filings.
✔ When You Should Hire Swyft Filings
If you are looking for low-cost but high-quality basic services (without a one-year-free RA included), fast order-processing speed, and need a 100% satisfaction guarantee from your chosen LLC formation company, then Swyft Filings is a good choice for your business.
✖ When You Should Not Hire Swyft Filings
If you need a registered agent service and would like to use a Premium package with additional (or different) features at a lower price. As mentioned earlier, Swyft Filings doesn't offer a full year of a registered agent in any of their packages, so you will have to pay an additional $149 for it.
Conclusion
With the cheapest (at the moment) Basic plan on the market $49, Swyft Filings offers some of the most beneficial opportunities and LLC formation benefits online. They also provide a 100% money-back guarantee and lifetime customer support, which indicates their high level of professionalism. All that is complemented by thousands of excellent customer reviews.
However, the lack of registered agent service in their packages, as well as the high cost of their Premium package can become a considerable downside for some customers. Alas, this still keeps Swyft Filings off the list of our top LLC formation services.